Home



West Bay
Accommodations & Pricing



Restaurant & Bar
Restaurant Menu



Diving
Dive Pricing & Packages



Prepaid Vacation Plans
West Bay Vacation Packages



Shore Excursions
Day Use Cruise Guests



West End
Accommodations & Pricing



Activities
Diving, Fishing, Snorkeling,
Island Tours & Attractions






General Information
Travel Tips & Flight Information



More Pictures



Guest Comments






Links
Visit our link partners



Coming Soon -
Miramar Villas Condos at
Foster's West Bay
$249,000 and Up



XE.com Currency Converter




Translate this Website
to Your Language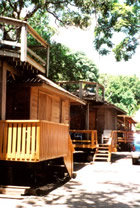 The rates below reflect special pricing for reservations made directly through this Internet site. Additional special rates are available for stays over two weeks. Please contact us for information regarding longer stays.

Please also note that room prices are per room or cabana and not per person. However, these prices reflect pricing for up to a certain number of persons per room/cabana. The maximum number of persons are also listed for each room/cabana below.


Foster's West End cabanas are located in a prime location in the town of West End and are directly across from the world famous Foster's Bar and Restaurant, which is built over the water and provides the perfect setting for the world's most spectacular sunsets. The cabins are a variety of individual cabanas close to shopping, dive shops, restaurants and happening bars. All cabanas have porches and private sundecks. Water taxi service is also available right out front. There are many other places in town to eat , drink and shop. West End is a small and friendly, bustling town with plenty of nightlife.

*5 night minimum stay during high season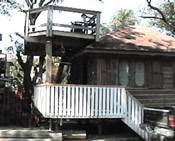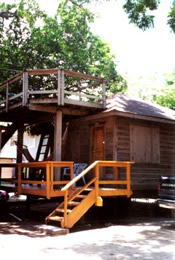 West End Cabanas Features:


* Maximum 4 persons *Pricing for up to 4 persons

2 Double Beds
Private Bath with hot water
In room Refrigerator
Private Porch
Private Sundeck
Air Conditioner

Restaurant/Bar Adjacent
Convenient West End location, next to shopping, groceries, restaurants, nightlife
Cabana Pricing


* Maximum 4 persons
Pricing for up to 4 persons:

Season

Daily Rate
1-3 Nights
Daily Rate
4-6 Nights
Weekly
LOW


(Sept15 - Dec 17, 2012)

$55.00
$50.00
$315.00
REGULAR


(Jan 5 - March 31, 2012), (April 9 - Sept 14, 2012)

$65.00
$60.00
$350.00
HIGH


(April 1 - 8, 2012), (Dec 18, 2012 - Jan 5, 2013)

$130.00
$125.00
$840.00




Room Reservation/Cancellation Policy:

All rates are per room or cabana

and are subject to the 16% Honduran Sales Tax, collected in Roatan. A 50% deposit is required at the time of reservation. Payment can be made by check, money order, Visa, MasterCard, or American Express. If you wish to have us debit your credit card, please fill out our secure form located on our "reservations/contact us" page directly below our e-mail address. Cancellations made 30 or more days prior to arrival will receive a full refund less a service fee of $50.00. Cancellations made 30-15 days prior to arrival will receive a 50% refund. Cancellations made 14-0 days prior to arrival are 100% non-refundable. Upon check in at Foster's, any remaining balance and the room tax can be paid by credit card, cash, traveler's check or cashier's check. Prices are valid through 12/31/2012 and are subject to change without notice.



Notice: All information provided on this site was correct at the time of publishing, but subject to change at the hotel.